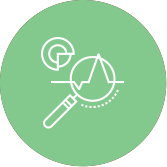 Recruiting Research & Direct Sourcing
Direct Sourcing is a flexible and effective recruiting alternative to traditional contingency and retained search. It's project-focused, and fees are based on services provided for an agreed-upon number of hours, which the client can extend or reduce during engagement.
Different support levels can be matched to the specific needs of the project, ranging from name generation to screening prospects to full life cycle recruiting.
Every project uses fresh telephone-verified research into the market sector of interest, providing names, titles, and direct contact information. If the project requires further screening or candidate development, we can present the opportunity, solicit interest level, and schedule the prospect for interview by our client.
We present you with prospects escalated to candidates, along with their resume and qualitative and quantitative non-resume information gained from telephone interviews.
Multiple hires can be made within the scope of a single project without incurring additional fees. The report itself can be used as a hiring resource, well after the project ends, for additional or related hires.
Mankuta | Gallagher is the largest and oldest service provider in the category, having pioneered this search method in 1994 and continuously refining its implementation
For more information, contact:

Organization Research
Some clients use our Organizational Research for recruiting purposes, but most are interested in benchmarking their own organization against admired competitors.
Organization Research can answer such questions as...
How can we map talent for an upcoming confidential replacement?
How should we plan for growth in our compliance group?
Do our job titles make sense to the marketplace?
How is Supply Chain organized at MegaCorp?
How many levels of management separate the CEO from the domain expert?
What are the sales territories at Xcorp and how are product offerings grouped within the salesforce?

Contingent & Retained Search
In 1994, we started a contingent and retained search practice servicing the biopharma and pharmaceutical industries. We continue serve this market with contingent and retained search.
If you are with a biopharmaceutical or pharmaceutical company and wish to use a contingent or retained model for Legal, Animal Sciences, or Physician recruiting, please contact the expert consultant who handles your area of interest. For other functional areas in Pharmaceutical recruiting, please contact Michael Gallagher to discuss how our direct sourcing offering can find the talent you need.
For more information, contact:
Robert Wasserman, DPM

Medical Directors for Clinical Trials, Medical Affairs

954-951-2587

rwasserman@mankutagallagher.com

Elizabeth Lim, Esq.

Legal, Regulatory and Compliance

954-951-2574

elim@mankutagallagher.com

Michael Gallagher, PhD

Managing, Partner

954-951-2568

mgallagher@mankutagallagher.com
(Visited 3,077 times, 1 visits today)